Beauvais-Tille Airport, located about 85 kilometers north of Paris, is one of the main gateways for travelers wishing to visit France and its surroundings. Although not as close to the capital as the airports of Paris Charles de Gaulle And from Orly, it offers affordable flights to many European destinations. In this article, we will show you different options for getting to Beauvais Airport from Paris, including public transport, shuttles and taxis.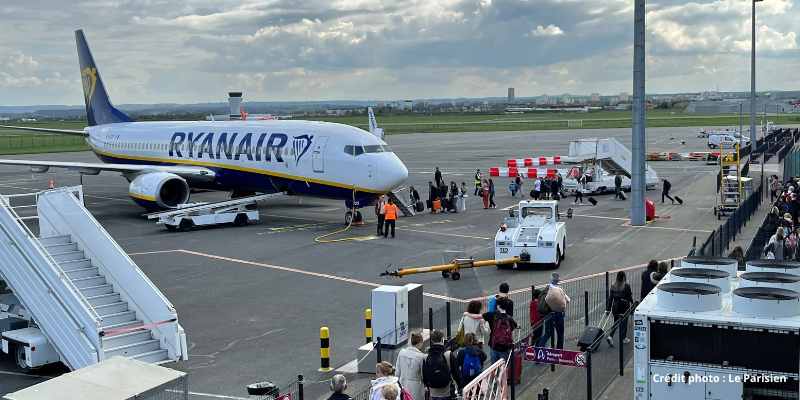 I. Public Transport:
By train from Gare du Nord to Paris
The most convenient way to get to Beauvais airport from Paris is to take the train. Travel by train from Paris-Nord station to Beauvais station! The trip takes about 1h15. Once you arrive at Beauvais train station, you can take a free shuttle to the airport, which is just a few kilometers away.
From Gare du Nord in Paris, this journey takes approximately 1 hour and 15 minutes, thus offering a fast and efficient solution to reach your destination. The main advantage of taking the TER is the attractive price it offers compared to other transport options, including shuttles. plan only €15.50 one way, although you can find even cheaper tickets from €10 by checking the official TER SNCF website.
Once you arrive at Beauvais station, you have several options to choose from to get to the airport. First of all, you can take bus line 6 of the Corolis network, which connects the Hôtel de Ville to Beauvais-Tillé airport. This ride will only cost you €1 for the whole day, making it a very affordable option.
In addition, a city center airport shuttle is also available for €4. These bus services allow you to easily reach the airport from downtown Beauvais, offering great flexibility in planning your trip. In addition, Beauvais train station is also connected to other nearby towns, which can be interesting if you want to explore the region further. For example, you can take a train to Amiens, a journey of around 1 hour and 30 minutes, to discover this charming city. Similarly, the cities of Rouen, Tréport and Creil are also accessible from Beauvais station with respective journey times of 2 hours 40 minutes, 2 hours and 45 minutes.
Reach the airport by bus
Another economical option is to take the bus. Several bus companies offer direct routes from Paris to Beauvais airport. Buses usually depart from the bus station in Swimsuit holder or Pershing bus station, located in the center of Paris. The trip takes about 1h30 to 2 hours depending on traffic.
II. Shuttles:
Official Aerobus Paris – Beauvais shuttle: Beauvais airport offers official shuttles which directly connect Paris to the airport. These shuttles are comfortable and reliable, and they operate according to flight schedules. You can reserve your seat online in advance to guarantee your ride. The departure points of the shuttles are located in Porte Maillot and Pershing, and they will drop you off directly in front of the airport terminal.
Need information on shuttles or available airlines? Consult Beauvais airport website.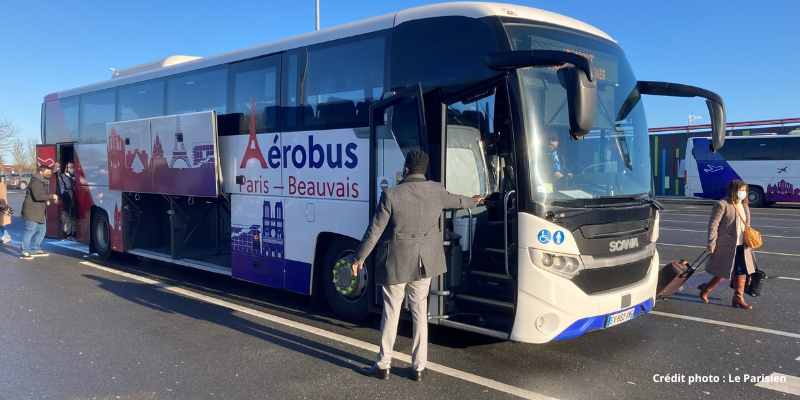 Airport transfer by private shuttle: In addition to the official shuttles, there are also private shuttle services that provide transfers between Paris and Beauvais airport. These services are often pre-booked and offer convenient door-to-door travel. Fares vary according to the number of passengers and the distance to be covered.
III. The taxi
If you prefer a faster means of transport and personalized, you can opt for a taxi. Parisian taxis are available 24 hours a day, 7 days a week. You can find them at designated taxi stands or hail one on the street. The journey in taxi from Paris to Beauvais airport usually takes between 1h and 1h30, depending on traffic conditions.
Price of a taxi shuttle
It should be noted that Parisian taxis are metered, and fares may vary depending on traffic and distance travelled. Be sure to check the approximate fare before boarding and ask the driver for an estimate of the total trip cost. Do not hesitate to complete the calculator available on our site to obtain a price.
Flat rate : Some taxis offer a specific flat rate for the trip between Paris and Beauvais airport. This rate may vary depending on your departure point in Paris. Generally, you can expect to pay between €100 and €150 for this type of service. It is recommended to confirm the flat rate with the taxi driver before boarding to avoid confusion.
Price at the meter: If you do not opt for a flat rate, the taxi will use the meter to calculate the cost of the trip. Metered fares are based on distance traveled and travel time. You can expect to pay approximately €2 per kilometer.
Car parks at Beauvais airport
If you have someone who can drop you off at the airport, you can park for free in front of the airport for a maximum duration of 20 minutes. This allows you to quickly say goodbye or pick up a passenger without having to pay parking fees.
However, if you plan to leave your vehicle at Beauvais airport, you have several parking options to consider. The P1 car park is located in front of terminal 1, while the P2 car park is next to terminal 2. There is also the P4 car park, located behind the P2 car park. All these car parks are open-air and equipped with surveillance cameras to ensure the safety of your vehicle during your absence.
Car park parking rates
When it comes to parking rates, here's what you should plan for:
For the first two days of parking, the rate is €30, with a supplement of €10 per additional day depending on the current rates.
For longer stays, you will need to provide between €80 and €120 for the first 8 days, with an additional €5 to €20 per additional day.
It is possible to find cheaper parking places, for example 20 € for a duration of 5 days, but they can be located at some distance from the airport.
A more economical alternative is to opt for private parking such as those offered by Onepark. These private car parks often offer competitive rates and are usually located close to the airport. You can reserve your space in advance online, which guarantees the availability of a parking space when you arrive.


Accommodation in a hotel near the airport
Are you looking for practical and comfortable accommodation near Beauvais airport? Here are three of the best hotels we recommend, all located nearby. The first is Mercure Beauvais Hotel, offering modern rooms, an indoor pool and an on-site restaurant. It is only a short drive from the airport, making it an ideal choice for travelers on the go. then, we have the Ibis Hotel Beauvais Aéroport, which offers comfortable rooms, a lively bar and easy access to the airport with a free shuttle. Finally, Hotel Kyriad Beauvais South is also a great option with its newly renovated rooms, restaurant and proximity to the airport. These three hotels offer quality services, convenient accessibility and good value for money for those wishing to stay close to Beauvais Airport.
What to remember when coming to Paris-Beauvais Tillé airport
Beauvais airport, although a little further from Paris, is easily accessible thanks to the various transport options available. Whether you choose the train, bus, official shuttles or taxis, there are solutions suitable for all budgets And to all needs.
Before leaving, remember to check the departure times and allow enough time to get to the airport, taking into account possible traffic jams. Have a good trip !